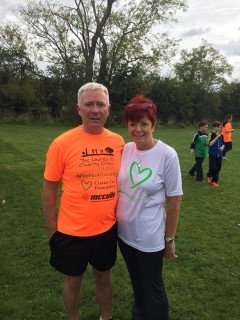 The Ciarán Carr Foundation would like to take this opportunity to express our sincere thanks to everyone who took part in the Fun Run/Walk this year. Without your support the event would not have been possible and we hope you all had a super day.
Many thanks to the Laurels Charity Crew and all their helpers for their invaluable assistance in making the event a possibility and such a great success. We would also like to thank South Dublin County Council who provided the entertainment on the day which created a great atmosphere.
The event would not have been possible without the volunteers who gave up their time to be stewards and man the water stations around the course. This can be a daunting job if the rain comes so your help is much appreciated!
To those who sponsored the event we would like to give a special thank you. To McCulla Logistics, Bill Griffin Motors, Lamps and Lighting by Paul Brennan, SP Sports and Leisure, Clare Distribution Services, Carambola Kidz and the Fitness Academy among many others we say thank you.
Your support again this year has made it possible to make Clondalkin a Heart Safe Village.
Thanks again to all of you and hopefully you can join us on our next venture. We really appreciate your continued support.
Gemma, Philip and the Ciarán Carr Foundation.