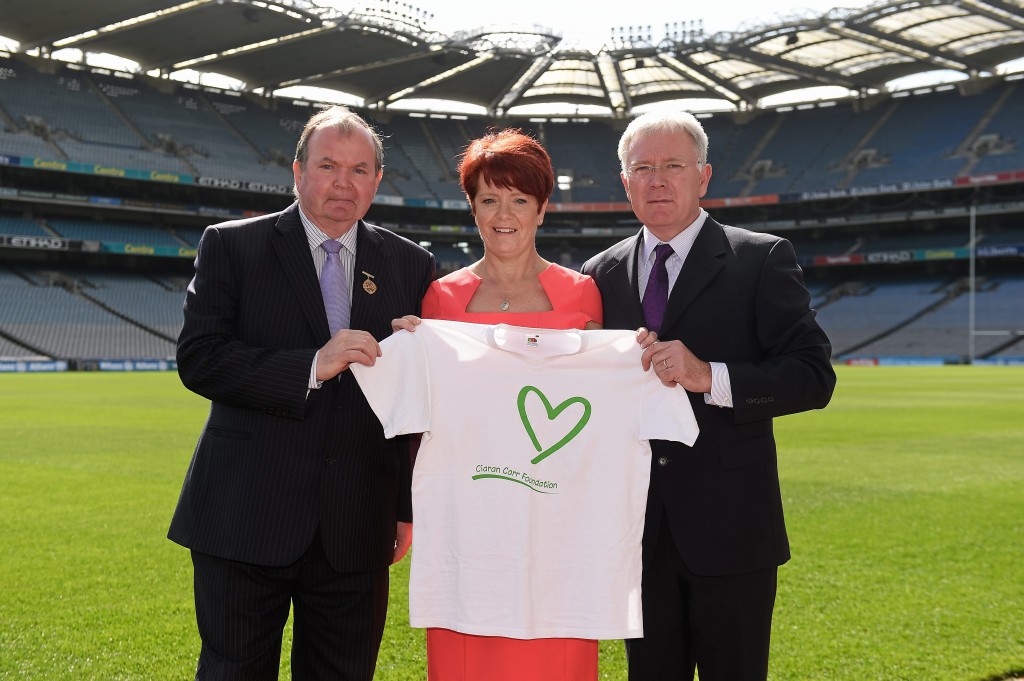 GAA President Liam O'Neill with Gemma and Philip Carr in Croke Park
The Ciarán Carr Foundation have been named as one of the five charities which have been made a GAA Charity of the Year for 2014. The announcement was made in Croke Park on Tuesday April 8th, just over a year after the Foundation launched at the stadium. Philip and Gemma Carr expressed their delight at this latest development which is sure to help spread the word of the work of the Foundation.
The other charities who will be joining the Ciarán Carr Foundation are the Peter McVerry Trust, Down Syndrome Ireland, the Samaritans and Irish Autism Action.
Ciarán's mother Gemma thanked the GAA for their support, she said: "Since Ciarán died we have had the full backing of the GAA in all we have tried to do and are very grateful to be made one of their Charities of the Year for 2014."
Uachtarán Chumann Lúthchleas Gael Liam Ó Néill said: "We are delighted to be in a position to highlight the excellent work that these five charities do and hope to be able to assist them in promoting their activity not just amongst our membership but across the country as a whole over the course of the remainder of the year."
Charities which have received this status will get the help of the GAA in furthering their individual causes. The Ciarán Carr Foundation is working on the finishing touches of an initiative which will be launched to coincide with the GAA Championship season.