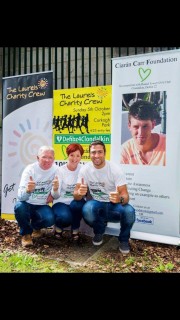 Philip & Gemma Carr with Cllr. Kenneth Egan at the launch of the Fun Run/Walk 2014
After the huge success of the Ciarán Carr Foundation/Laurels Charity Crew Fun Run/Walk 2013 we have decided to once again hold the event this year! Having had a great day and over 1,000 participants last year the event was a special day for Clondalkin and the surrounding areas. The Fun Run/Walk 2014 will take place on Sunday October 5th in Corkagh Park, entry if €25.
Joining Gemma & Philip Carr from the Foundation for the launch of the Fun Run/Walk 2014 were the team from the Laurels Charity Crew, El, Paddy and Denis, as well as newly elected Councillor and Olympic Silver Medallist Kenneth Egan.
This year the event will be held to place defibrillators in strategic locations throughout Clondalkin which will be accessible to the public. The initiative includes placing a number of devices outdoors in specially designed cases which would be accessible 24 hours a day.
Expressing their delight that the event will be taking place this year Ciarán's parents, Gemma & Philip said: "Most people believe that Sudden Adult Death Syndrome (SADS) only strikes those who are out on a football pitch, this just isn't true. This can happen to anyone at any time. A young person could be running for a bus, running because they are late for school or just out playing with their friends. The idea isn't to strike fear into people, it's to ensure that the children in this community get the best treatment at the earliest possible stage."
Cllr. Egan welcomed the initiative and stated "a heart attack can happen to anyone-it doesn't matter how fit you are. A defibrillator can save lives."
If you would like to register for the Fun Run/Walk please find details by logging onto our Facebook and Twitter pages.