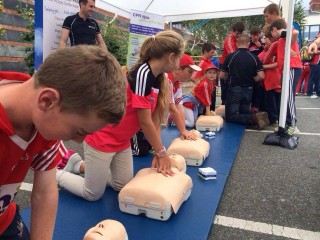 As part of the ongoing commitment by the GAA to the health and well-being of its members a special Health & Well-being Day was held in Croke Park on Sunday 17th August ahead of the All-Ireland Hurling Semi-Final clash between Cork and Tipperary.
The Ciarán Carr Foundation, as one of the five GAA Charities of the Year for 2014, was joined by great charities such as the Samaritans and the Irish Cancer Society in welcoming fans from all over Ireland to the Family Funzone where the event was being held.
As part of our programme of raising awareness our stall featured various pieces of literature on how to save lives through screening and other mediums, a prize draw to win a defibrillator for a local GAA club and we were joined by our partners in HeartSafety Solutions who gave brief demonstrations in CPR as pictured above.
Those who did not come through the Family Funzone would have come into contact with our fifty volunteers who were situated around the stadium handing out wristbands, leaflets and taking names for our defib draw. Without the help of this special bunch the day would not have been possible!
Overall it was a thoroughly enjoyable day and we hope that those who joined us will take our message back to their clubs and continue the work that we are doing in this area.
Congratulations to the winner of the defibrillator Eilish Hurley from O'Donovan Rossa GAA Club, Cork.