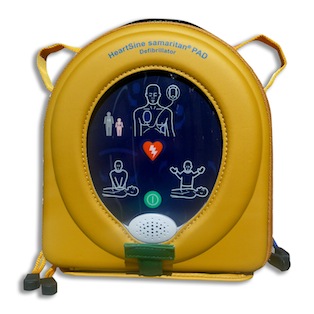 We have all heard the statistics, defibrillators save lives. The simple truth is that they are not always readily available or on hand when an emergency occurs. Regardless of this defibrillators have become a familiar sight for people in shopping centres, public buildings and many sports clubs around the country.
The Ciarán Carr Foundation wants to place defibrillators in every sports club in the country. Why? To give someone the best possible chance of survival if an incident occurs. From the work we have done already we know that the very presence of a defibrillator can provide reassurance for managers and players alike.
Round Tower GAA Club, Clondalkin and the Ciarán Carr Foundation have joined together to do something which has never been done before, provide each adult team in a sports club with a defibrillator. This remarkable feat was made possible by the generosity of the members who have supported each initiative put forward by the Foundation.
So how easy is it to carry one? Meet Jenny Byrne from Round Tower's. Jenny is a camogie player, club and inter-county referee and mentor to Dublin under-age teams. The defibrillator donated by the Foundation travels with her wherever she goes, all over the country. We put a couple of questions to Jenny, here is what she had to say.
- When were you trained to use a defibrillator?
I was trained a number of years ago, prior to Ciarán's death. We are very lucky in Towers to have people who are willing to give up their time to train people like myself to use a defibrillator.
- As a player, referee and coach how many days a week are you active?
On average I would be out four days a week, that could be at training, at a game or anywhere in the country refereeing.
- How many players on average would you come into contact with a week?
90 to 120 players at games but when there is development squad training this could jump to 180 girls per week.
- When you travel away with the defibrillator do you inform the managers of each team that you have one and what is their reaction?
Yes I do and their initial reaction is one of surprise. People expect to see defibrillators in a clubhouse or dressing rooms these days but they don't expect to see people carrying a portable one. Given the fact that pitches are sometimes located some distance from a clubhouse and dressing rooms it does dawn on managers of the need for a portable one, distance isn't always taken into consideration.
- On your travels around the country do you find that many clubhouses and pitches are equipped with a defibrillator?
Most of the better known clubs and stadiums (Semple Stadium, Nowlan Park etc) have defibs as they have pitches adjacent to a clubhouse. However most pitches down the country that I have come across have no facilities where a defib can be stored safely.
- Those which you have noticed, are they readily accessible?
Personally I don't think they are accessible as the pitches for Inter County games are generally neutral venues.  Both teams don't know who looks after things therefore if there was a requirement for a defib nobody would know who to ask for the defib or where to find it.
- Finally, how easy is it to carry this defibrillator around with you?
Easier than I originally thought!!  It has been in my gear bag since we got it and I haven't thought twice about carrying it around.
If you have a story similar to Jenny's please get in touch with us at ciarancarrfoundation@gmail.com