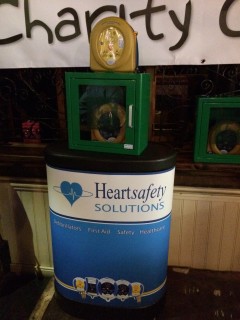 On Friday December 6th those who supported and took part in the 'Defibz 4 Kidz' 10k Fun Run/Walk in October came to the Laurles Pub  to see the handover of the defibrillators to all 29 schools in Clondalkin. A representative from each school was on hand to collect their defibrillator and pose for a picture with Gemma and Philip and members of the Laurels Charity Crew.
Thanking those who had come to see the handover Gemma Carr, Ciarán's mother, said "this exceeded our wildest dreams and we want to thank everyone who turned up in October and who supported ourselves and the Laurels Charity Crew."
"By placing a defibrillator in every school we are ensuring that a child, should something go wrong, has the best possible chance of survival."
Denis McCarthy, manager of the Laurels Pub and member of the Laurels Charity Crew, said "there is no question that we want this to happen again next year, we hope that you will join us so we can make it bigger and even better."
Heartsafety Solutions, a local business, provided the defibrillators and will also offer training and maintenance. You can get in touch with Heartsafety by following the links at www.hearts.ie.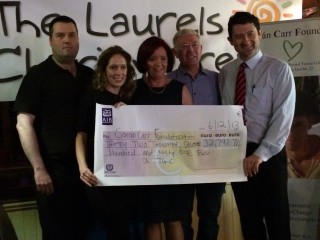 On the night, a cheque for €32,791.74 was on display which allowed people to see the total amount raised. Given the large amount there is now the possibility that schools in the surrounding areas could also receive a defibrillator courtesy of the Ciarán Carr Foundation.
Later in the night a raffle was held in which prizes such as a bathroom suite, a satnav and numerous other prizes were up for grabs. Overall the night was  a huge success.
The details for the Fun/Run 2014 are being finalised and we hope that we can make the event even bigger next year. If you have any queries do not hesitate to get in touch with the Foundation.