On Wednesday November 20th Barry Keane from the Ciarán Carr Foundation appeared on TV3′s Ireland AM alongside Dublin All-Star footballer Michael Darragh MacAuley and CRY (Cardiac Risk in the Young Foundation) Consultant Dr. Deirdre Ward. The discussion centred around what is commonly known as Sudden Adult Death Syndrome (SADS).
Barry Keane, Dr. Deirdre Ward and Michael Darragh MacAuley
A couple of weeks prior to the show Michael Darragh MacAuley underwent cardiac screening in the CRY Unit, Tallaght Hospital. This involved a number of tests which allowed doctors to see that he had a perfectly fit and healthy heart.
Michael Darragh was told the results of the screening live on air and was told he had a "beautiful heart" by Dr. Deirdre Ward.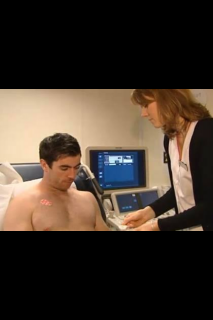 Michael Darragh MacAuley undergoing screening in the CRY Unit
On the experience as a whole Michael Darragh said "I was happy to be the guinea pig here today,  it gives you peace of mind that everything is good because we have all heard these stories far too many times."
"In fairness the GPA (Gaelic Players Association) have screened over 1700 players but the majority of these are inter-county players."
"The more people who get screened, the more lives we can save."
On the benefits of cardiac screening Dr. Deirdre Ward believes that "sometimes people will have warning symptoms and either not recognise them or choose to ignore them, sometimes people tend to put their head in the sand."
"About 50% of people get no warning at all and the only way you will catch those is screening. People who are going to exercise to a very high level  should consider it."
When asked if being screened once during a lifetime is enough, Dr. Ward replied that "usually the people who do programmes for screening will do it every two years, particularly for teenagers going through their growth years."
Describing the night Ciarán Carr died Barry Keane said, "everything was normal, Ciarán showed up to training and was messing around as he always did before training, he displayed no symptoms at all, he didn't even say he was feeling unwell."
"Towards the end of the session, the final set of exercises, Ciarán collapsed. Some of the lads who are Guards, teachers. physios and the like copped what was going on and started to work on him immediately, that was when we were cleared out of the hall."
"The first thing that popped into my head was Cormac McAnallen and Marc-Vivien Foe, both sports people who had died from SADS."
Summing up Barry asked that "parents, teachers, coaches and concerned community members in general take this seriously and don't leave it until it's too late, contact us and we can help you fundraise and run initiatives in your communities, just don't leave it until it's too late."
Every year in Ireland 80 young people lose their lives to Sudden Adult Death Syndrome (SADS). The victims are often young, fit and healthy and many play sport and lead normal lives. The Ciarán Carr Foundation and CRY are charities which aim to raise awareness of this condition and prevent further deaths in the future.
Please do not hesitate to contact the Foundation at ciarancarrfoundation@gmail.com or on Facebook or Twitter.