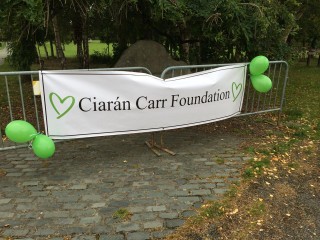 October 5th saw the Ciarán Carr Foundation/Laurels Charity Crew Fun Run/Walk return to Corkagh Park. This year the event was hosted on a windy Sunday afternoon and we were delighted to see 550 people put on their orange t-shirts and take to the 10k course.
Prior to the race the participants were put through an athletic warm-up to get the blood flowing and then lined up to be cheered over the start line.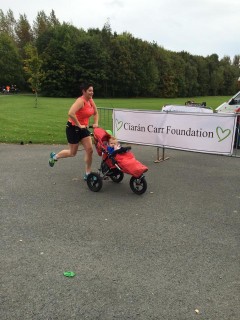 With runners, joggers, walkers, dog walkers and pram pushers it wasn't long until the competitors looking to win the race set the pace at the front. Ken Mulvey crossed the line in 36 mins and claimed gold in the male category while Grace Kennedy retained her title from last year with an excellent time of 39.14. Well done to both and we hope to see them back next year for another crack at the title.
Ciarán's mum Gemma was present to greet each participant as they crossed the finish line and personally thank them for their support.
Following the race Gemma said "This year was another great success and the support this community has shown us never ceases to amaze me. I would like to thank everyone who came out today and I hope everyone had a great day."
This year the Fun Run was hosted to raise funds to place defibrillators in strategic locations around Clondalkin. A common misconception is that only those who are engaged in sporting activity can suffer a sudden cardiac trauma. Unfortunately this can happen at any time, in any place and the need for more public access defibrillators is essential.
Thank you once again to all who participated. If you would like more information on any fundraising activities undertaken by the Ciarán Carr Foundation please do not hesitate to contact us at ciarancarrfoundation@gmail.com.