Over 1,000 Take Part in 10k Fun Run/Walk
The start line, constructed by Precision Timing
On Saturday October 19th over 1,000 people took part in the Defibz 4 Kidz Fun Run/Walk in Corkagh Park, Clondalkin. This was organised by the Ciarán Carr Foundation and the Laurels Charity Crew to raise money to purchase a defibrillator for every school in the Clondalkin area.
Over the past two months volunteers from the Foundation and the Charity Crew visited every school in the area talking to teachers and students. The response was fantastic and this was shown on the day when students who could not take part due to their age instead volunteered to be stewards for the event.
By 1pm the large crowd had gathered at the start line and were ready to go. They were set on their way by Philip and Gemma Carr blowing a bull horn. As the rain clouds set in, yellow jerseys could be seen in the distance but nothing could dampen the spirits of those who came to show their support.
The course itself was studiously put together by Ellen McLoughlin and it did not disappoint. There was something for everyone and both runners and walkers alike found it challenging.
Ciarán Reilly finished with a time of just over 33 minutes and was met by Dublin manager Jim Gavin to receive his medal. George Brady from Inchicore College finished second, while Declan Ward came in third. In the ladies section, Grace Kennedy finished first, Maura Kearns from Sruleen National School came in second while Aine Donoghue finished third.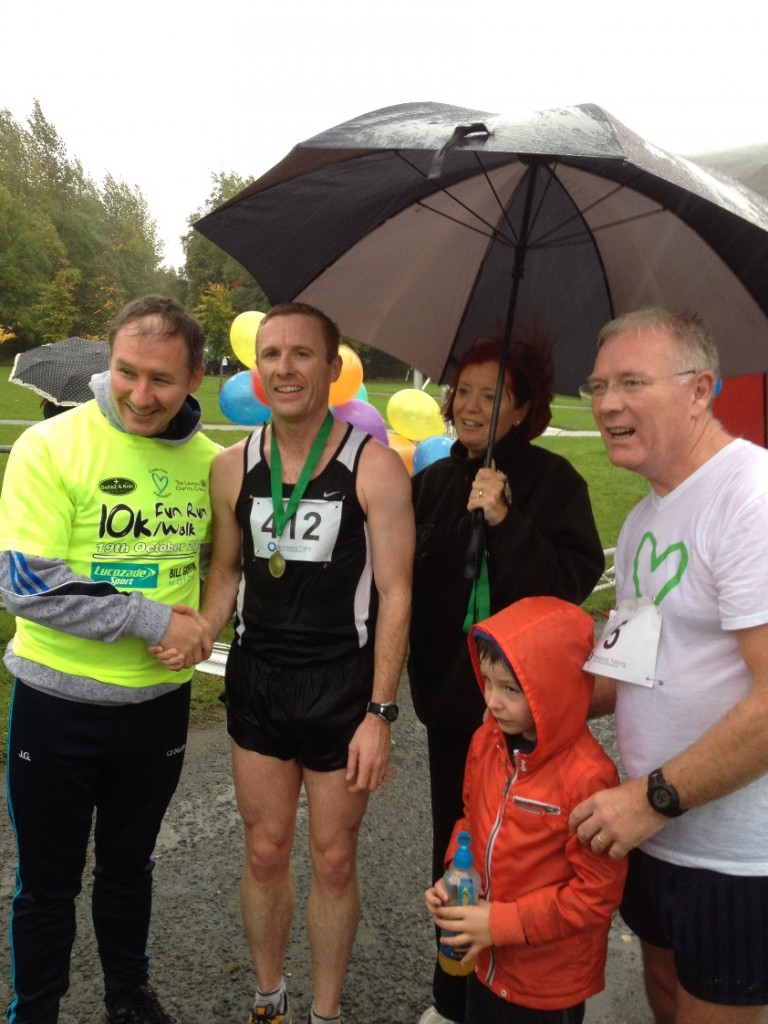 Dublin Manager Jim Gavin with Ciarán Reilly and Gemma and Philip Carr
Although the rain was heavy at times during the race every competitor crossed the finish line where they were greeted by Ciarán's parents Gemma and Philip.
After the race it was back to the Laurels Pub where photographs and race times were displayed on the big screen.
"Today will live long in the memory of those who took part, putting a defibrillator in every school in a community the size of our own has never happened before and to be the first is something we should all be proud of in Clondalkin" said Ciarán's mother Gemma.
It is hoped that this achievement will be noted throughout the country and that others will follow in our footsteps.
We would like to offer a special thank you to everyone who took part in the event. Whether you ran, walked, helped steward the event or came out to be a spectator you were a part of a very special day for Clondalkin.
The Laurels Charity Crew must be given special praise because without their hard work and foresight the day would never have taken place. In particular Denis McCarthy was relentless in his organisation, Ellen McLoughlin made sure every last detail was attended to and Paddy Price made sure everything ran smoothly on the day.
The Laurels Charity Crew raise thousands of euro every year for charity through their various events and we would urge everyone to continue supporting them. You can find them at www.laurelscharitycrew.com and on Facebook and Twitter.
If you have any questions or queries in relation to anything mentioned above please do not hesitate to get in touch. You can find us on Facebook, Twitter or email at ciarancarrfoundation@gmail.com.